Internet Vikings, the premium cloud hosting provider from Sweden, will conduct its new webinar, The New Era of Transferring Data, on April 28.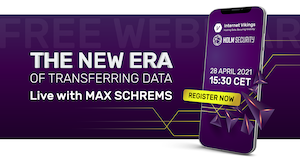 The keynote speaker of the event will be privacy activist Max Schrems. The webinar will be conducted together with Holm Security.
Internet Vikings has gained a lot of momentum in organising and holding educational webinars which have already become a thing among igaming professionals.
Almost immediately after the successful completion of its previous webinar, the company started preparing for the next event.
Schrems is an Austrian lawyer, author and privacy activist. He became known for campaigns against Facebook for its privacy violations.
Most recently his name started to be associated with the ruling of the European Court of Justice which invalidated the Privacy Shield framework as not providing adequate protection for data transfers.
This judgement creates issues in the field of data protection for European companies including igaming operators, who are using services of the US registered cloud service providers.