Affilka by SOFTSWISS has shared its results for 2021, during which period the affiliate marketing platform grew significantly across the board, including crossing the 100 affiliate brand mark.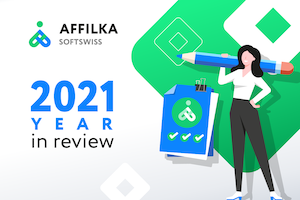 In 2021, the Affilka team expanded its client list with 60 new companies, up 92 pr cent from 2020 with a score of 65 live brands at the end of the year.
As a result, Affilka ended 2021 at 125 live brands, 76 of which support crypto. Among these, about a third operate on third-party online casino and sportsbook platforms.
Affilka is flexible in that clients can take advantage of the affiliate marketing platform regardless of whether they operate on the SOFTSWISS Online Casino Platform or use their in-house solution.
"Any online casino or sportsbook can rely on the flexibility and professionalism of our team to launch their affiliate programme on our software," commented Anastasia Borovaya, product owner of Affilka.
"Affilka has extensive experience with both SOFTSWISS Online Casino Platform clients and with those companies that use third-party platforms or proper solutions.
"Therefore, our experience allows us to safely claim the highest customer focus available in the gambling market."