The Bayes Esports Partnership Program is setting the stage for a sustainable esports future.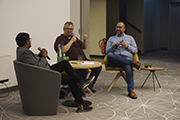 BAYES Esports, the world's leading source for esports live data, is laying the foundation for a sustainable future for game developers, tournament organisers and esports betting organisations.
The Berlin-based company has developed a global network to make strides towards establishing rules and solutions, as well as setting standards within the industry with the long-term development and the integrity of esports in mind.
Read the full article in the latest issue of iNTERGAMINGi
To receive every print and digital issue of iNTERGAMINGi, subscribe here