The most personalised approach to CRM is through one-to-one conversations, according to Andy Foster, chief business development officer at Enteractive.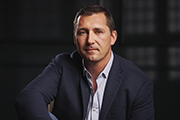 INTERGAMINGi: What services does Enteractive provide to operators?
AF: Enteractive helps operators convert and reactivate players in their databases that have not reacted to the initial outreach employed in most CRM cycles, such as SMS, Push and Email Outreach.
Read the full article in the latest issue of iNTERGAMINGi
To receive every print and digital issue of iNTERGAMINGi, subscribe here