Czech Republic-based game developer e-gaming now has a wide portfolio of online games. Here, the company's CEO Leszek Banduch highlights the trends shaping the market.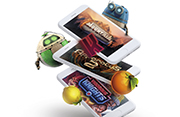 INTERGAMINGi: What do you see as the major trends in online slots developing in 2023 and beyond?
The world of online casinos has evolved tremendously over the past few years and in amazing ways. One of the factors has also proved to be technological progress, which has played a huge role in the development of the online casino experience.
Read the full article in the latest issue of iNTERGAMINGi
To receive every print and digital issue of iNTERGAMINGi, subscribe here