Following its launch, the immersive casino and sportsbook brand, LynxBet, established a new affiliates program that aims to provide affiliates with all the necessary content, tools and support required to achieve impressive results for both parties. iNTERGAMINGi spoke to the brand's head of affiliates, David Shaw, to find out more about the program and how it plans to achieve these goals.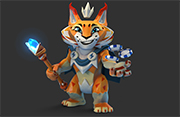 HOW IMPORTANT HAS AFFILIATION BECOME IN DRIVING AWARENESS OF NEW OPERATIONS BRANDS SUCH AS LYNXBET?
Affiliates are the lifeblood of the industry. Even with a sizeable marketing budget, the traffic that a large affiliate team brings in can't be easily purchased. Their presence on the digital high street affords them a great deal of credibility and trust from players.
Read the full article in the latest issue of iNTERGAMINGi
To receive every print and digital issue of iNTERGAMINGi, subscribe here