From very humble origins, SiGMA in Malta has grown to become a major igaming event and a global mainstay of the industry.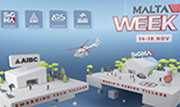 AT SiGMA participants can find a platform to network, innovators are welcomed, start-ups are supported and thought leadership is promoted.
In other words, it's the gaming industry's yearly pilgrimage and it's all proudly taking place in Malta. Returning to its roots, the SiGMA Group intends to bring global business executives to the sunny islands of the Maltese archipelago for a week of networking, workshops and ideation.
Read the full article in the latest issue of iNTERGAMINGi
To receive every print and digital issue of iNTERGAMINGi, subscribe here