Lehel Makra, affiliates consultant at Betsson Group, tells iNTERGAMINGi about his modus operandi.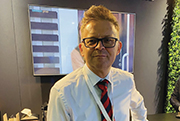 INTERGAMINGi: Could you tell us a little about your role?
LM: I have been working at Betsson Group for more than four years now. Originally, I was hired for the German market, but like everything in this industry things are in constant change. For this reason, you must be very flexible and always adapt to the circumstances; therefore I have taken over other countries and regions. With more than 12 years of experience, I see my role at Betsson to help wherever it is necessary, to support my colleagues so that they can achieve their individual goals as well as accomplish the targets of the entire team.
Read the full article in the latest issue of iNTERGAMINGi
To receive every print and digital issue of iNTERGAMINGi, subscribe here