The launch of the betting exchange Prophet Exchange in New Jersey marks a brand new stage in the development of the US sports betting industry although, as ever, liquidity will be the key issue for the group. Jake Pollard spoke to co-founders Jake Benzaquen and Dean Susin to find out more about their plans.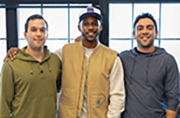 PROPHET Exchange has gone live in the state of New Jersey and the launch, the company says, means it is the first sports betting exchange to go live in the US.
Co-founders Jake Benzaquen and Dean Sisun, who are COO and CEO of the company respectively, say Prophet Exchange is about to revolutionise sports betting stateside as it brings "better prices directly to the customer" and gives them the freedom to set their own odds, back and lay bets and trade on a direct-to-consumer platform that, in contrast to fixed odds bookmakers, does not refuse bets because of their size or block winning punters.
Read the full article in the latest issue of iNTERGAMINGi
To receive every print and digital issue of iNTERGAMINGi, subscribe here