Quanta, the Isle of Man-based blockchain lottery pioneer, has appointed Frank Schuengel as its Nigerian subsidiary's new chief operating officer.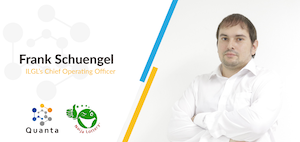 Quanta is focusing on streamlining its business activities and rolling out an updated version of its blockchain lottery product throughout Africa, starting with Nigeria.
Its new strategy calls for the fast introduction of the newly enhanced product to the market, paired with greatly improved operational efficiencies en-route to achieving its goal of operational profitability in the very near future.
Schuengel started his career with betinternet almost 20 years ago and has since held senior positions at major companies including 188BET and Intralot.
Quanta's CEO Harmen Brenninkmeijer said: "I am delighted to welcome Frank as our COO. Experienced management will be vital for the success of Quanta. Frank is an e-gaming industry veteran whose global expertise and technical knowledge will benefit the company on its road to commercial success.
"I am confident that his extensive skillset and proven leadership will help us to focus on our goal of delivering value for our clients and shareholders."