Hangfast has completed a significant stage in the development of Europe's first ever Flight Tower, located in Lancaster, UK.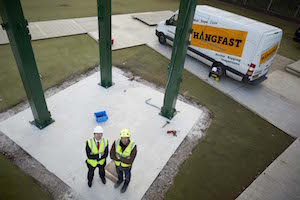 The heart of the tower, measuring at over 60ft., was installed at Lancaster City Council's Salt Ayre Leisure Centre.
Produced by engineers Hangfast, the attraction, named Gravity, is a multi-level outdoor tower that will see visitors invited to test their nerve and leap from the top, named The Drop. There are various ways of descent including abseil, zip line or free fall.
Councillor Darren Clifford, Lancaster City Council's cabinet member with responsibility for tourism and leisure, said: "Being a UK first, the installation of this magnificent piece of equipment is a significant coup for the Lancaster district. As an integral part of the £5m regeneration of our Salt Ayre Leisure Centre, which is being coordinated by our developer Alliance Leisure, it is anticipated to attract more than 8,000 visitors from far and wide to the centre each year."
John Beers, founder and director of Hangfast, added: "The Flight Tower is a significant development in adventure play and brings something entirely new to the market.
"For the first time ever, adrenaline fanatics will have the opportunity to experience the feeling of a free fall from a moderate and yet still incredibly nerve-testing height.
"We're delighted to launch the first Flight Tower, Gravity, here in the UK and to work with Alliance Leisure and Lancaster City Council on the regeneration of Salt Ayre Leisure Centre."