The prime minister of the United Arab Emirates, Sheikh Mohammed bin Rashid Al Maktoum, visited Dubai Holding, the major development company, for a briefing on the new Marsa Al Arab project that will dominate Dubai's tourist industry in the coming years.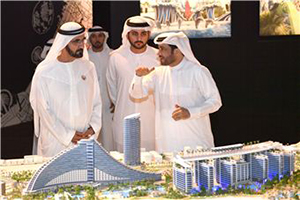 The project will spread across four million square feet on two islands on either side of the Burj Al Arab at Jumeirah, with 2.2km of beach frontage dedicated to entertainment and family tourism, plus an exclusive resort. Also included are a private yacht marina, yacht club and a huge retail area of 20,000sq.m, replacing the existing Wild Wadi water park.
The water park will now be moved closer to the beach and will double in size. Part of the Marsa Al Arab project will be Marine Park, an edutainment centre with a live theatre.