An indoor surfing concept by WaveSurfer at the XStream Park in Switzerland could soon be be seen at venues around the world.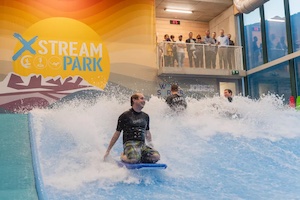 Switzerland's first WaveSurfer experience was recently installed at XStream Park in Collumbey-Maraz at the foot of the Swiss Alps, affording visitors a weatherproof indoor active experience.
The XStream WaveSurfer concept is now being touted to be installed in other locations internationally as the collaboration has proved to be a success with visitors.
Said to be "perfect" as an addition to any FEC, WaveSurfer was chosen by XStream Park for its operational reliability as well as its ability to deliver exceptional client experience, optimal ROI, high standards of safety and comprehensive after-care and support.