Following 12 months of development, the first of Storm Games' new slant-top cabinets has arrived in the UK.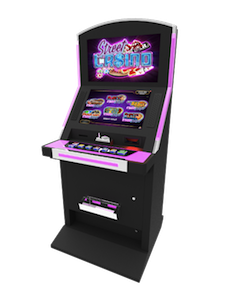 Boasting a 24ins widescreen top screen and lower touchscreen, ticket out capability, a dual hopper and support for a whole raft of money handling peripherals, the new Titan cabinet is designed for use in a variety of venues across the globe.
"The Titan cabinet is a slant-top designed primarily for the UK arcade and bingo sectors, although we already have interest from continental Europe and Africa for the product," said Richard Sheldon, MD of Storm. "This cabinet is a continuation of our desire to have high quality cabinets to suit multiple market sectors.
"A new entry-level casino cabinet will follow in autumn 2014, meaning we will have our own cabinets, designed and produced by Storm Games, for every gaming sector in which we now operate in."