A top name in the amusement industry for over 50 years, Shane Breaks, has died in the South of France where he was retired.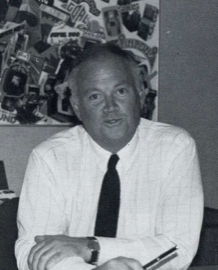 Shane was with a number of major amusement machine companies in his career, including Atari, Belam, Rowe International, Benchmark and Namco, but entered the industry through Streets Automatics in the UK.
Shane, who was 75, leaves a wife, Sophie, son Brendan and stepchildren Alexandre, Emilie and Olivia.
Michael Green of UDC in London, told InterGame: "I have known Shane since 1958. I spoke with him only this week on the telephone and we made plans to meet in London for dinner. I understand he died in his sleep."
Shane had been retired from the industry for the past five years.
Kevin Hayes, one-time President of Namco in the US, and a lifetime friend, said: "I knew him since 1978 when he visited the Atari factory which was newly opening in Ireland. I can recall him saying to me: 'You will remember me.'
"That was to prove very true. Shane's positives always outweighed his negatives; he was a physical and mental giant – a great guy in his time and I will miss him."
At the time of writing there was no information to hand about the funeral arrangements.