The Irish Gaming Show, held in Dublin on March 7-8 has received some excellent feedback from exhibitors.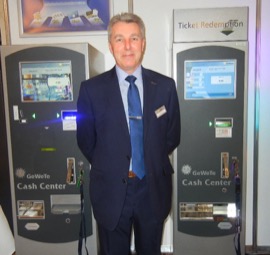 Mark Edmundson, who took his GeWeTe range of change machines to the exhibition, said: "This show is perfect for the Irish market.
"We always look forward to coming here to greet our customers. We have the right solution for every application.
"We are increasingly growing our customer base as we are here for our customers to answer all their questions and ensure that they can choose the right GeWeTe solution to match their needs."
John Vallis, vice president of amusement sales for SuzoHapp, explained: "We place great emphasis on supporting our customers and the feedback from this exhibition shows us how this is appreciated in the Irish market.
"We have so much to offer and the support to match.
"I'd like to thank the team at SuzoHapp for their dedication and my thanks goes to everyone who visited us. It was great to see you all there."
Image (top): Mark Edmundson of GeWeTe UK
Image (bottom): Norman Ridall and Ferry Bostelaar on the SuzoHapp booth