A new leisure complex in Plymouth, UK, is set to be re-named before it has even opened.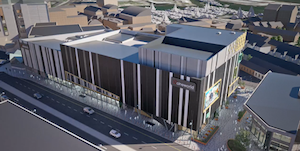 The previously-monikered Drake Circus Leisure has now been dubbed The Barcode after local residents began referring to it as such due to the styling of its construction.
The Barcode, which will span more than 100,000sq.ft, is set to become a major visitor attraction in Plymouth.
When it opens in October, it will house a 12-screen Cineworld IMAX 4DX cinema, as well as a branch of Paradise Island Adventure Golf and a host of F&B outlets.