Good Planet, a fun-filled strawberry farm in West Auckland, has added new attractions to its ZaberriWorld Adventure Park.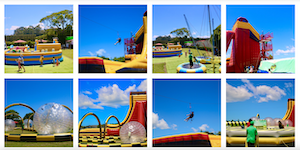 Comprised of a variety of inflatable adventure options, such as an obstacle course, zorbing zone, brand new stunt jump and mega slide, and zipline, Good Planet's ZaberriWorld Adventure Park has lots to offer for any family in search of adventure.
Stuff.co.nz dubbed ZaberriWorld the "Disneyland of the fruit world", as it allows visitors to enjoy vibrant active entertainment options and strawberry-picking all in the same day.
Good Planet is one of the largest suppliers of strawberries in New Zealand, and is owned by veteran strawberry picker Boman Zakeri, who has been in the industry since he was 15.