The new Shining Cube crane from Harry Levy Amusements is designed to bring a whole new perspective to the world of crane games.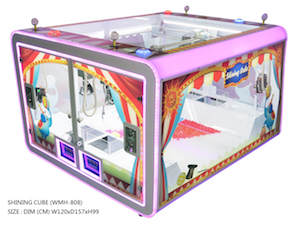 The top-down view, paired with RGB LEDs, makes for an attractive display and with four controllers for four different players, Shining Cube offers a unique experience as all can play at the same time on one machine.
For arcade owners, the innovative design makes for an interactive game in a space-saving format and with options for players to win every time and interchangeable claws for small candy and prizes, Shining Cube can be customised to suit most needs.
"Cranes are the mainstay of any arcade but this one offers something unique," said Harry Levy Amusements' director Matthew Deith. "Apart from that, it has to be one of the most flexible cranes on the market, offering a great return on investment."