Sound Leisure has unveiled its latest jukebox.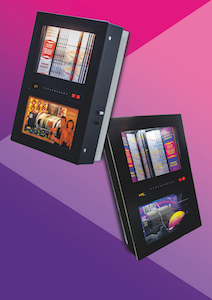 The Remix-50 Wall Box is a wall mounted unit capable of holding 50 discs which the company says "takes you back in time to an era when cutting edge digital music came packaged on shiny compact discs."
Styled on Sound Leisure's commercial CD wall boxes from years gone by; it features a secure metal rear cabinet with a textured black wooden surround.
Despite its retro looks, the jukebox is powered by modern technology, utilising Series 3 Unity like the rest of the Classic Jukebox product range.
There are no music subscription charges, meaning the unit suits sites that would still like to have a jukebox but do not have enough takings to validate the cost of a digital jukebox.
Remix-50 is available in two designs: Neon, featuring throwback 80's arcade style artwork and Amber, with traditional 90's pub scene artwork.
The unit ships with a dedicated remote control, which enables full playback control including selections, reject, shuffle modes and independent volume levels for the external speakers.
The jukebox uses Sound Leisure's famous CD mechanism, which has been in continuous production for more than three decades.