The amusement and attractions industry in the Middle East has its own 'Oscars' awards for significant contributions to the industry and at its Gala Awards Dinner in Dubai on Wednesday night, local operators MAF and Emaar scored big.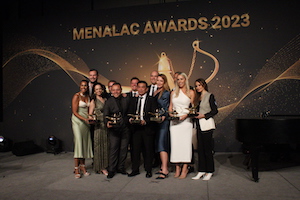 The entertainments division of Majid Al Futtaim, the major shopping malls and FEC company, took six of the awards and Emaar Properties – also with its own entertainment division, took another six.
A total of 29 of the trade association MENALAC awards were up for grabs, covering every sector of the attractions business.
MAF won in the categories for Best Innovation in Health and Safety; Best Impactful Sustainability Campaign, Best Design Leisure and Entertainment Facility for its Snow Oman; Best Innovation Application of Technology for its Magic Planet Mobile Wallet; Best Sports Adventure-based Environment for Ski Dubai; and the prestigious Best FEC for Magic Planet, Al Zahia, Sharjah.
Emaar won the category for Most Unique Visitor Attraction with its Skyview Observatory in Dubai; Best Cinema Experience with it Reel Cinemas; Best Edutainment Playscape with Kidzania, Dubai; Best Individual Safety Achievement went to Emaar's Ajith Ajayan; and Best Establishment Manager for an Attraction of over 250,000 admissions per year in Mokhtar Musleh of Dubai Aquarium. Emaar also provided the Leisure and Entertainment Personality of the Year in Zeina Dagher.
The Best New Product for Arcades was Blitz by Hologate for its installation at XReality Pavilion in Saudi Arabia.
Other prestige awards made during the glittering event, held at the Sky View Hotel in Dubai, went to: Supplier of the Year, Amusement Services International; Best Theme Park, Ferrari World, Abu Dhabi; Best Water Park, Atlantis Aquaventure, Dubai; Best New Leisure Concept, HyperspaceAya, Wafi Mall, Dubai; Best Day Out, Warner Bros World, Abu Dhabi; Best CSR Program, One Good Heart, by Fun City, Pakistan; Best Integrated Leisure Destination, Yas Island, Abu Dhabi; Most Unique Marketing Campaign, Aya Has Landed, Dubai; Best Customer Loyalty Programme, AMC Daera; Best Employee Engagement Initiative, Extraordinary Colleague Engagement, by Atlantis Aquaventure; Best New Product for Parks and Attractions, Big Wavez, City Walk, Jeddah, Saudi Arabia; Best New Product for Water Parks, Wibit Peakz; Best New Ride for FECs and Parks was Nebulaz, installed at Yabeela, Bahrain, by Zamperla; Most Unique Concept went to Icon Tower Vertical Water Park by Whitewater; Best Manager for Attractions of under 250,000 visitors, Hakam Al Ahmad of Al Hokair Group.
There was a moving tribute by Mishal Al Hokair, MENALAC President to the late Alberto Zamperla who was posthumously elected to the association's Hall of Fame.
The host for the event was Laura Naylor of Radio Dubai, while Silvio Liedtke of Landmark Leisure, the association's vice-president, introduced the evening pointing out that 15 countries were among the nominations and in one category there were no fewer than 14 nominations.