With a "hottest party" theme, Intercard staff sported red outfits with chili pepper hats.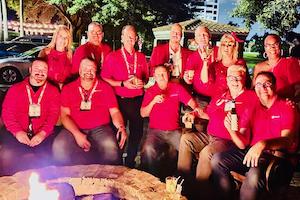 The party brought more than 400 of Intercard's customers, staff and industry colleagues under one roof for pre-show festivities.
Intercard's CEO, Scott Sherrod said: "Intercard continues to spice up the amusement industry.
"As the industry continues its return to growth worldwide, we are happy to be back at the biggest IAAPA Expo of the year, celebrating with our global family of customers, partners and friends. We enjoy heating things up and having some fun to get everyone ready for the hard work of the show."
Guests enjoyed spicy hot margaritas across two bars, as well as a Mexican buffet with choices of dips at salsa stations, located at Rocco's Tacos.