Innovative Concepts in Entertainment has teamed up with Play Mechanix to bring one of the world's most recognisable brands – Monopoly – to the amusement sector as a video redemption game.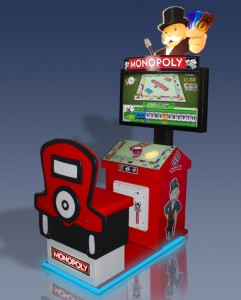 "Monopoly without a doubt is one of those titles that people from all generations and cultures recognise and relate to," said Joe Coppola, vice president of sales at ICE. "Both the licence and the game are timeless and beyond popular."
The Play Mechanix team has done an "outstanding job" taking the popular board game and converting it to a coin-op game, he said, adding that the new title possesses "intuitive and engaging game play."
The new title features a 42ins LCD monitor, a custom LED-lit seat and a "durable" back-printed acrylic marquee.
Players can choose their favourite Monopoly playing piece, spin the dial to roll the dice and move around the board. They can then collect hotels, win Monopoly Bonuses, Boardwalk Bonuses, and other in-game features. They can also choose to continue up to two times to keep their hotels and maximise their winnings.