Attractions management platform Connect&Go has raised over US$17m in its Series A funding round, it was announced yesterday.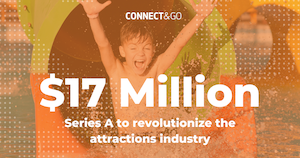 The funds will go towards helping the company expand more rapidly and strengthen its global presence for its Konnect product, supporting all operations of an attraction and able to replace up to ten existing solutions at once.
The result is an improved end-to-end customer journey, simultaneously providing an easy-to-use solution for operators. It is already deployed in dozens of attractions around the world.
"Our growth depends directly on the satisfaction of our customers who are the best ambassadors of our platform. This is why the majority of investments are directly related to product development, innovation, user experience as well as the deployment and customer success team," said Tara Morandi, senior vice-president of sales and marketing at Connect&Go.
With this financing in place, Connect& Go plans to accelerate the development of its product and deployments in Europe, where it has just won more than ten major amusement parks, while also strengthening its presence in the US.