CHIPS, the UK gaming industry charity, which provides specialised wheelchairs for children with severe mobility problems, has received £170,000, presented to co-founder Linda Lindsay by Praesepe's chief executive, Nick Harding.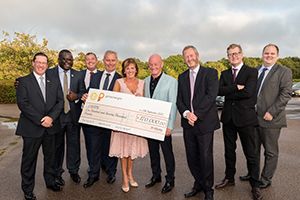 This is the largest single donation in the charity's 16-year history. Addressing the 105 guests attending the presentation dinner, Linda Lindsay highlighted the teamwork that goes into creating a chair that meets the specific physiological needs of each child.
She also expressed appreciation for the support of the many gaming organisations that have raised in excess of £1.75m since 2001, all of which goes into the purchase of chairs.
She said: "CHIPS was born out of the UK gaming industry and continues to be funded almost exclusively by the industry. While there are so many organisations who support us, I am indebted to Caesars UK, Genting Casinos, all our regular and some new participants in this room and of course to Praesepe for their commitment and compassion.
"Once again Nick and his team have succeeded in bringing me very close to tears with the depth of their generosity and kindness. Each year they break their own fundraising record and each year I struggle to keep my composure. £170,000 is an enormous amount of money and is the result of amazing fundraising initiatives undertaken by both staff and customers throughout the Praesepe estate of Cashino adult gaming centres and Beacon Bingo clubs."
Pictured: Praesepe chief executive Nick Harding (centre left) presents a cheque for £170,000 to CHIPS co-founders, Linda Lindsay and Alan Goodenough