A fresh take on an 80s Atari classic is now available to operators thanks to ICE, in partnership with Play Mechanix and Raw Thrills.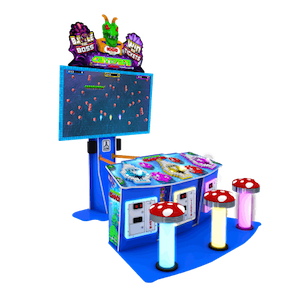 Centipede Chaos is a three-player video redemption game where players have to blast their way through 10 waves of insects to take on wasp, firefly and beetle bosses before facing a Mega Spider Boss. Scatter, shock, blaster and beam power-ups assist players throughout the game.
The cabinet boasts a huge 75ins display with a LED-lit marquee above it, while three mushroom-shaped seats employ a rumble feature. Controls are via over-sized, ball-top joysticks and single fire buttons.
The game can be operated without a ticket-dispenser for amusement-only purposes.