Proposals have been put forward to create a huge new bowling alley arcade next to New Street railway station in Birmingham.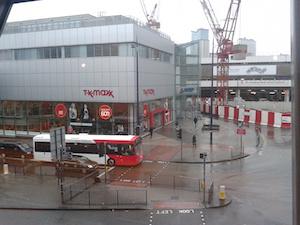 The Bullring Ltd Partnership has lodged plans with Birmingham City Council which would see a huge space above a retail store and opposite the station transformed into an entertainment venue with an external staircase added, reports Birmingham Live. It would be set over three levels with a bar and an arcade with the latest video games.
The bottom floor would operate as a private functioning area for socialising which would involve activities such as beer pong. The second level would include the bowling alley, as well as a bar and a reception area where customers could hire shoes. The top level would be an arcade including some of the latest video games.
A roof terrace is also be included in the plans which would be used for external seating.