Nina Byron, Betson's financial services manager, was named Industry Person of the Year 2017 by the Amusement and Music Owners of New York, making her the first woman to receive the award.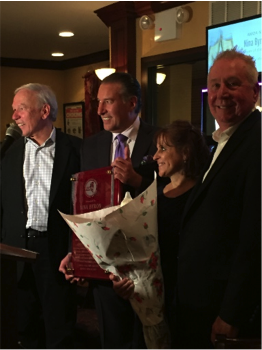 The AMOA-NY is a not-for-profit group that represents the interests of businesses that install and own coin-operated amusement and music equipment throughout the state. Byron was presented with this award on April 24 during the awards gala and dinner at Ben and Jack's Steakhouse in Manhattan.
"With her financial acumen, hard work ethic and outgoing personality, Nina definitely deserves this award," said Kevin Fritz, vice president of Betson's financial services. "She is widely respected as one of the most liked and best known executives in the amusement and music industry. It is an honour to work with her all these years."
Byron joined Betson in 1999, where she has been a key contributor to the company's growing financial services department. Today, Byron continues to provide oversight to Betson's corporate and branch office financial portfolio.
Accepting the award, Byron said: "I am honoured to be chosen as the first woman to receive the Industry Person of the Year Award. It is exciting to see how the industry has grown over the past years and I feel truly blessed to be part of it."
Byron has joined the ranks of industry veterans such as Robert Geschine, president of H Betti Industries, Allen Weisberg of Apple Industries and Kevin Fritz as recipients of the award.