InterGame reports back from the recent IAAPA Expo Europe in London.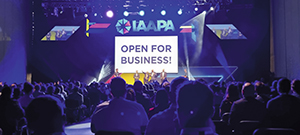 IAAPA – all iterations of it across the globe – is one of the key events for the industry's collective calendar. Most recently, it was London, UK, that played the role of host for the massive trade show. As expected, artwork of Elizabeth II adorned pillars and posters scattered around the show floor, as well as generally throughout the ExCeL on the English capital's docklands.
Ahead of the show, there were concerns the monarch's death would have an impact on the numbers or overall feel of the event, but those concerns were eased upon entering the exhibition centre on day one of IAAPA Europe, September 13.
Read the full article in the October issue of InterGame
To receive every print and digital issue of InterGame, subscribe here