Zitro's latest release for Spanish casinos, Fantasy Wealth, has been added to the offering of Casino Peralada and Casino de Barcelona.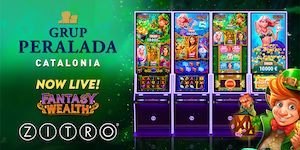 This 4-level multi-game progressive, presented on the premium Altius Glare cabinet, immerses players in an incredible adventure, chasing golden chests to activate the Giant Jackpot Wheel that guarantees a sure prize or one of the jackpots.
Benjamín Enfedaque, director of gaming and innovation at Grup Peralada Casinos, stated: "At our company, we strive to constantly provide our customers with an innovative and technologically advanced gaming offer.
"Following the usual success of Zitro's products, we are excited to offer this premium product in our casinos, which looks impressive on the Altius Glare cabinet."
Jaime Aníbal-Álvarez, Zitro's director of casinos Spain, added: "Fantasy Wealth, which is part of the Seven Chests series, provides players with a fascinating gaming experience.
"We thank Grup Peralada for once again trusting Zitro and adding Fantasy Wealth to the important list of Zitro products in their casinos."