The in-shop betting experience has been transformed for customers, demonstrated by the opening of the latest state-of-the-art, digital-only betting shop in Leeds, UK.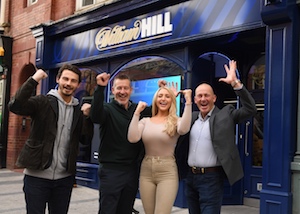 William Hill's new venue in the city was opened by former Leeds United and England goalkeeper Nigel Martyn, former Yorkshire and England cricketer Craig White and ex-Leeds Rhinos rugby star Steve Ward.
Customers at the shop will find digital-only betting, coupled with an integrated research gable where customers can access digital versions of the Racing Post. They will also have charging stations at hand to power up their mobile phones.
William Hill has also placed delivering innovations in player safety at the heart of the relaunch, with the introduction of a player safety/customer service area named Own Your Game, where customers and staff can privately interact around safer gambling issues and the various support measures available.
The leading bookmaker will also have access to real-time footfall information via a dashboard to understand customer dwell time and peak periods.
Elsewhere, William Hill has introduced gantry cameras, providing access to which betting materials customers are engaging with on the shop floor to help tailor popular broadcast content, while also trialling the use of body cameras to ensure the safety of its staff.