Recovery will come to Las Vegas as early as 2023, Chad Beynon of Macquarie says in his 185-page report titled The Sun Will Come Out Tomorrow.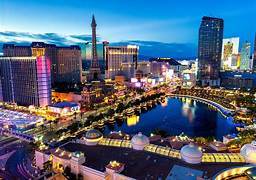 That would come on 41 million visitors spending $427 in spending per trip, per person and revenues six per cent below last year. A bear case could be waiting until 2027, Beynon said.
Gaming revenue in Las Vegas has actually declined over the last 12 years as customers shift to non-gaming spending, which has grown 30 per cent in that time, Beynon said. Despite that shift, casinos are still major cash flow generators given the size of gaming facilities and margins, he said.
The city, which has attracted 42 million visitors annually, will draw more in the future as Allegiant Stadium opens, convention capacity grows 25 per cent in the next two years and the MSG Sphere opens, he said.
Source: Fantini's Gaming Report