Canada's Shorelines Casino Belleville has chosen TCS John Huxley to supply its gaming tables and a series of other live gaming equipment.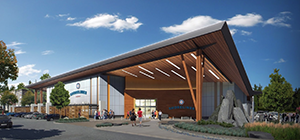 The 48,000sq.ft multi-purpose entertainment venue, run by the Great Canadian Gaming Corporation, is the first casino to open in the province of Ontario in over a decade. It boasts 18 gaming tables, 450 slot machines, a 225-seat capacity entertainment space and dining venues.
Among the gaming tables supplied were 12 blackjack tables, four baccarat tables and two roulette tables each with custom designed layouts. TCS John Huxley also supplied a range of e-FX winning number displays for roulette, as well as the company's Saturn roulette wheels.
Greg Stewart, business development manager for TCS John Huxley, said: "GCGC has been a much valued customer of TCS John Huxley for many years and we were absolutely delighted to be awarded the opportunity to supply its tables, layouts, and associated equipment for its new Shorelines Casino Belleville property in Ontario. The positive collaboration between our teams throughout this project has been a great experience, enabling the smooth running of the whole process and a wonderful end product. The entire team at TCS John Huxley wishes much success to the new Shorelines Casino Belleville."
David Desmarais, director of operational readiness for GCGC, said: "TCS John Huxley was able to offer solutions for all of our table gaming needs. Its team was attentive throughout and offered products and options to meet our requirements on time and on budget. From start to finish, the entire TCS John Huxley team was excellent to work with."