Tangam Systems, a developer of gaming optimisation software, is now utilised at over 100 casinos.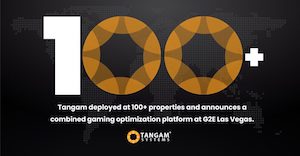 "That's 9000-plus table games and over 31,000 slots and ETGs benefiting from improved gaming profitability at operations of all scales and sizes from large-scale iconic chain resort operators to smaller independent operators," says Maulin Gandhi, president of Tangam Systems.
"I'm excited about this major accomplishment and proud of our team that worked so hard to achieve this milestone. But being chosen by so many properties is just the beginning.
"Our dedicated customer success and analytics support teams ensure each of our clients achieves tangible financial results. That's the driving force behind our brand, product design and, in fact, everything else we do."
And there is a new product announcement that will "revolutionise how operators manage their entire gaming portfolio - combining table and slot performance into a single platform."
This combined platform will provide a big-picture solution for operators that manage tables, ETGs, and slots. The goal is to help maximise the profitability per square foot of the entire gaming floor.
"This will make it easier for operators to visualise, evaluate and measure specific performance benchmarks for their entire gaming operation and determine the best plan of action for every inch of their casino."