Fresh gambling legislation for Ghana may be on the way, said the country's deputy minister for the interior, Henry Quartey, in an address opening a stakeholder's forum.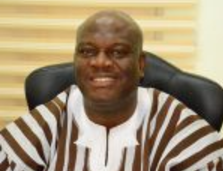 Quartey (pictured) said that the government was committed to promoting a gaming environment where gambling was "an enjoyable leisure activity devoid of societal menace and criminality."
He said that a national policy to regulate gaming activities is on the way and when in force it will help streamline the activities of casinos, sports betting and scratch card lottery operations.
"We should aim at building a sound consumer protection policy," he said, adding that one area of concern was the under-age gambling that had resulted in a negative perception about the industry.
He said, as stakeholders, "we should put our hands to the wheels to ensure that we discourage or institute measures that will help keep our young ones safe from engaging in activities not meant for them, while the industry thrives."