Macau mass market gross gambling revenue is likely to be 15 per cent higher than its 2019 levels by 2023 on a strong rebound in visitation and helped by capacity increases, Bernstein Research said.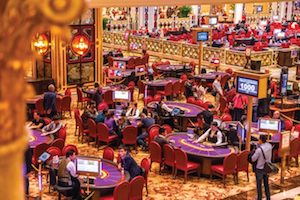 It's the second research house this week to sound a more bullish tone on the outlook for recovery in Macau after J. Morgan said it had turned "incrementally bullish."
Overall Bernstein said it expects 2023 GGR to be 81 per cent of 2019 levels due to significant weakness in the VIP sector that will only be at 28 per cent of pre-pandemic levels after the loss of most junket business.
It sees a further 11 per cent gain in 2024 and 2025, again driven by the mass with the VIP market likely to be stagnant.
The changing revenue mix will translate into improved margins for Macau's six operators, with EBITDA this year to be up 270 per cent to arrive at 37 per cent of 2019 levels. It will match pre-pandemic figures in 2023 before growing at 12 and 13 per cent per annum in the following two years.
Source: Asia Gaming Brief