Europe finally got back into the gaming machine exhibitions routine with the Gaming Industry Expo in Kiev, Ukraine, today.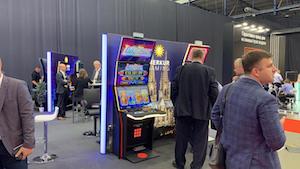 The two-day event at the international Exhibition Centre in the Ukraine capital, was hailed as "fantastic to be back" by one of the biggest exhibitors, Merkur Gaming. Its CEO Sakis Isaakidis said on the first morning: "It is still quite early on the first day and we expect bigger numbers later in the day, but it is a fantastic feeling to be back with our visitors, customers and partners.
"This marks the reopening of the industry, live and in action and gives us all very real expectation that better times are coming."
His company had teamed up with local technical, logistical and sales support from Kiev-based MSL with a large stand full of new games, cabinets, jackpot solutions and multiplayer equipment. Many were programmed in the local language and some were making their debut."
Said Isaakidis: "Here in Kiev we have leveraged Merkur's experience and success throughout the Baltic region and it is great to see the hugely positive reaction from decision makers and influential figures from the operational sector as they viewed our latest products.
"There is still a long way to go for the Ukraine's industry to be fully functional but all the signs are that rapid progress will be made in the near future.
"I just want to say a big thank you to MSL and the Merkur team and also to the show's organisation for making this event happen. The weather outside may be a little suspect but here, inside, the Merkur sun is shining brightly and the future for Ukrainian gaming looks extremely positive."