Jimmy Thomas, one of the best-known casino operators in the UK, passed away at the weekend aged 88.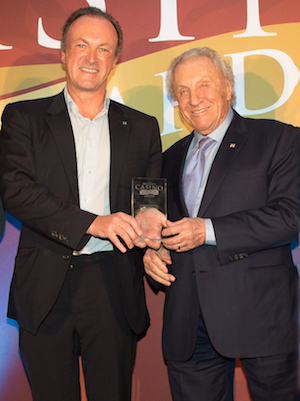 Jimmy was, with his son Simon, the owner and operator of the Hippodrome Casino in central London, but he was much more than a major casino operator - he was a leading personality in the wider UK gaming industry.
For over 70 years he led from the front, operating arcades and running successful manufacturing businesses as Thomas Automatics, distributing to many global customers, and was an industry ambassador in trade association and international industry political circles.
Jimmy and his late wife Alma, who passed away in 2008, were popular and influential characters in the arcades and latterly in the casino sector.
He was active in various trade associations, notably BACTA, the UK organisation covering the arcades, of which Jimmy was a former president, Euromat, the European federation of trade associations, and the European Casino Association.
In his long career he fought several major legal battles over patents and the legality of gaming machine features. He developed a string of original games and trend-setting products for the business, beginning with change-givers, bingo products, amusement games and gambling devices.
Perhaps his greatest achievement was to win a casino licence in the very centre of London's most tourist-friendly position, the Hippodrome in Leicester Square, on the very edge of Chinatown.
It was to become very quickly the most successful casino operation in the UK. The former historic theatre was, with great sensitivity to its architectural features, turned into an international casino and opened in 2012.
Jimmy Thomas received many accolades in his illustrious career, perhaps none of them as notable as the Freedom of the City of London, but he was also honoured with a Lifetime Achievement Award by the British Casino Association and received many other industry and business honours.
In a message to Jimmy's closest contacts yesterday, son Simon said: " I am sorry to have to tell you that, after a short illness, my father Jimmy died in his sleep at the London Clinic yesterday (Saturday), with me and other members of our family present.
"I've spent most of the last few days with him, talking and laughing. To the end he was the charming raconteur, with tales of a life lived to the full.
"His advice and guidance to me personally was incalculable. He was a business partner, a friend and my dad, sometimes a tough audience for sure, but my goodness he knew his stuff.
"While today you will undoubtedly share our deep sadness, we will be celebrating his life in the weeks to come and will let you have details. He wouldn't have had it any other way. Please look on his life with happiness and smile with me." He was born in 1934 and was educated at Uppingham School in Leicestershire in a family that for seven generations had been involved in the leisure and gaming industry.
His first casino was at the Hurst Hotel, in Quorn, Leicestershire, opened in 1956, quickly followed by others in Nottingham and Derby. He then opened the Le Ronde Casino and Cabaret Club in Loughborough in 1965.
His Showboat arcades and the Beacon Bingo Club were often held up as examples of the finest quality of venues in the country. But they were only two of the many companies that constituted his Thomas group.
A sale took place in 1987 to the Rank organisation together with a demerger of some of the companies. These were retained by the Thomas family and the parent company, Thomas Holdings, was formed.
As chief executive and later, with his son Simon as managing director, the group companies - Thomas Estates (Showboat Amusement Centres) and Beacon Entertainments - continued to operate venues until, in August 2006, the group was sold to Mayfair Acquisitions and operated under Riva Gaming, subsequently purchased by Praesepe.
This led directly to Jimmy and Simon planning and executing the biggest coup of them all - the acquisition, conversion and opening of the Hippodrome Casino in London.
Jimmy leaves Simon, two daughters, Lisa and Carla, and a younger son, Jordan. He also leaves seven grandchildren and three step-grandchildren.
Our sincere sympathy goes to all of his extended family.