The ICU instant age verification device was a big hit at the ACOS trade show in London last week, reports Innovative Technology, the cash handling specialist.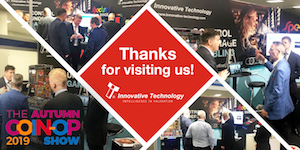 Andy Bullock, senior business development manager at ITL, said: "ACOS marks the start of our busy show season and gives us an ideal platform to test out new products before the big exhibitions at the beginning of next year.
"Our ICU device gave visitors a glimpse of the net iteration of this product with facial recognition that automates the age verification process. It uses some clever machine learning algorithms to help combat under-age gambling and assist premises and operators to comply with gambling restrictions and regulations."
ITL's Spectral technology was also on the stand, offering protection against fraudulent banknotes and the company also showed its ReelPay to illustrate how players can pay using their mobile telephones.