The major milestones achieved by Great Canadian Gaming in 2019 are now coming through to affect the group's business results, said CEO Rod Baker in his report on the second quarter of the year.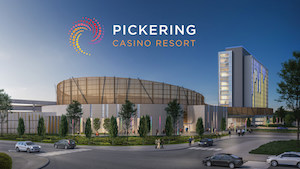 The group had completed the sale of Great American Gaming Corporation in June, comprising its US interests for US$56m, gaining $47m in Canadian dollars.
It allowed GCG to focus on its core growth markets, said Baker. This includes the coming launch of the world-class casino resort in Pickering, Ontario the building of which should be opened by the end of the first quarter of 2020. Expanding gaming had been launched at Elements Casino Mohawk in May of this year now featuring 1,500 slots and 60 tables and the group had expanding its operations at Casino Ajax.
Overall, revenues for the second quarter were C$354.4m, up 20 per cent and adjusted EBITDA was C$153.7m compared with C$122.7m.
Pictured: Pickering Casino Resort