The growing concerns about fewer people carrying cash and the impact this has on gaming machines can be alleviated by the appearance at the EAG trade show in London last week of the new tap and play innovation from GeWeTe.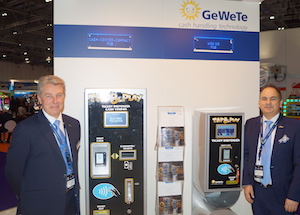 The company went to the show with two models of change machines that serve two separate requirements. The smaller Tap & Play 103 enables players to purchase a ticket through a cashless method only - debit, chip and pin or contactless. The amount debited from the card is then credited to the barcode ticket and used for machine play.
The larger model, Tap & Play Cash Centre Compact, offers a full circle - all of the functions of the smaller 103 as well as money redemption and change machine. Then the player can buy a barcode ticket by cashless means and the ticket can also be redeemed, so the remaining value is paid out in cash.
The picture shows Mark Edmundson and Aristidis Tsikouras from GeWeTe at the show with the new Tap & Play.