Euro Games Technology, developer of gaming products like video slots and jackpot systems, has celebrated its 15th anniversary.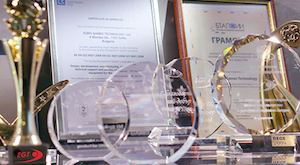 The company has grown quickly in its time in the industry, having 1,300 employees, offices in 20 locations worldwide and machines operating in over 80 countries in Europe, Asia, Africa and North, Central and South America.
In 2016, the company reported an increase in sales of 30 per cent. Along with several new jurisdictions in Spain and the US, the company also entered the markets of the Netherlands, Belgium, Russia and Morocco. The manufacturing capacity of EGT has grown by 30 per cent, totaling 16,000 gaming stations for the year. The sales and distribution network has been expanded with three new offices in Peru, Colombia and Mexico, strengthening the company's position in Latin America. The company has also secured a contract for the distribution of its VLT gaming equipment in Italy with GlobalStarnet.
In 2017, EGT plans to increase its manufacturing capacity to 20,000 gaming stations per year and is aiming for sales growth of 30 per cent. It also intends to solidify its positions in Central and South America, penetrate the markets of Costa Rica and Chile and gain ground in several more US jurisdictions. In Europe, the company is working towards establishing its AWP portfolio in Spain and VLT products in Italy.