The new NV4000 Spectral will take centre stage in the Innovative Technology display at the upcoming G2E exhibition in Las Vegas (October 11-13).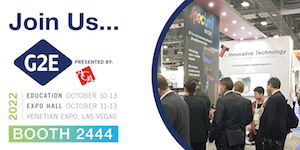 The company is planning a big display at the exhibition, rejoicing in overcoming the uncertainty in the market created by the pandemic and in the rapid growth in the market in North America.
Said Rebecca White, vice-president of sales and business development for Innovative Technology Americas: "After a few years of uncertainly with the Covid-19 outbreak, it will be great to be back in Vegas to network with our international colleagues and customers, especially now our products are more established.
"Our new NV4000 Spectral will be centre stage alongside a large range of our bill validators and cash handling solutions, plus our latest biometrics solutions - all available for visitors to demo."
NV4000 is a high volume mixed bill recycler with a large capacity of up to 420 bills from five denominations and that makes it ideal for use in redemption kiosks for efficient cash payouts. The company will also highlight its NV9 and NV200 bill validators on the stand.