Next week's big Spanish trade show, the Feria Internacional del Juego in Madrid, will see Crane Payment Innovations offering payment systems new to the Spanish industry.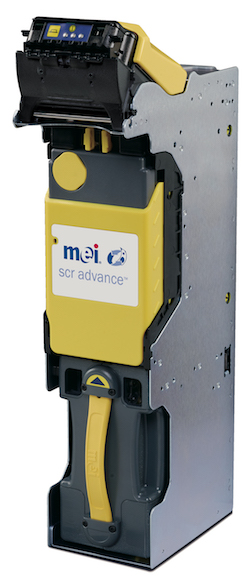 At the show (April 9-10), CPI will highlight the SC Advance banknote validator (pictured) of which there are already two million units in operation globally in both casino and street operations. It will also show the SCR Advance banknote recycler to the Spanish market, featuring the same acceptor head and 600-note cashbox as the SC Advance. It also has two 60-note recycling drums to provide the right capacity to meet the needs of non-TITO applications.
"It is an excellent time to introduce the SCR Advance to the Spanish market," said Anette Jauch, CPI sales director for EMEA Gaming.
"We see a definite trend for investment in higher-end solutions in the AWP market. The increased ROI warrants this. We are observing different time frames for this shift in Europe. German arcade operators have been enjoying the benefits of high-end banknote recyclers for some years now. The UK street market is now embracing this technology, and Spain is on the verge of moving in this direction as well. Operators recognise the long-term benefits of higher customer satisfaction, increased machine uptime, and fewer problems associated with fraud when banknote recyclers are used as part of a total cash management solution."