The merger between two Australian gambling giants, Tabcorp and Tatts Group, worth AU$11.3bn (US$8.6bn) will go ahead, according to a decision by the Australian Competition Tribunal.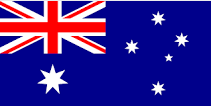 Despite objections from rival betting companies, the two sports betting specialists can now combine.
The merger had been held up for several weeks by appeals. In addition to sports betting in street locations, the two have state lotteries and run slots.
One of the objections had been from the Australian Competition and Consumer Commission but the tribunal has ruled otherwise.