Spanish gaming industry expert Eduardo Morales Hermo, of iGamingCo, has shown how bad decisions have been made by some European countries – his own included – in handling the pandemic.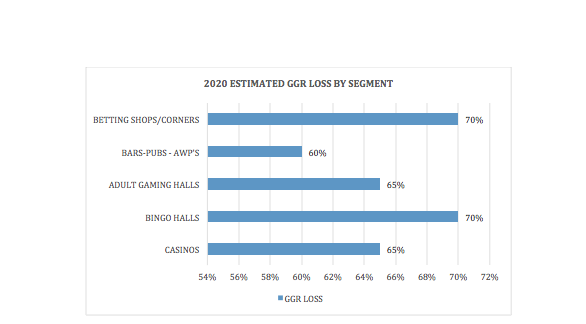 Morales notes however, that laying blame at this stage is unhelpful. He believes it is better to analyse and establish the consequences and look for solutions. In a paper extensively reported in the Spanish gambling trade press, Morales identifies a "complicated future".
Land-based gambling, he says, has an important socio-economic role in Spain, contributing one per cent of GDP while employing 250,000 people. The private sector's gross income runs at €5.2bn across all segments (2019) or about 55 per cent of the total gross revenues. The remainder is public gambling, notably through the lotteries.
"The immediate absolute closure of the land-based gaming establishments since March 15, which persists today, and has very negative prospects regarding its reopening, has caused irreparable losses for companies, with collateral effects on employment and tax revenue for administrations," he said.
"The fall in revenues has been 100 per cent of the private land-based gambling industry, which is proven and inarguable."
Morales dismisses the recently announced government plan for transition to "new normality" which he feels is no more than a maintenance of the abnormality, presenting with it a critical situaiton for the land-based gaming industry. While the health criteria in the plan may be acceptable, "it should be noted that it is not a transition to a new normality, because when normality has a determining factor such as 'new' it renders 'normality' worthless."
He protests that the authorities' application of economic aid, notably access to guaranteed credits and other financial aid measures, is unfair and unilaterally excludes the gaming industry.
"As always, unjustified discrimination is applied for a legitimate leisure and entertainment activity and perfectly established in the society and regulated by the administrations."
Morales demands incentives and compensation to correct what he sees as "this tremendously negative deviation from the normal activity prior to Covid-19" so that the industry may continue as an important contributor to Spain's economy and society with taxes.
The phasing in of the easement of restrictions will be varied, he says, but the damage caused by the pandemic may be quantified by the graph above.
Recovery in consumption will be slow and the industry must consider a staggered growth both in terms of footfall and spending. He feels that the gaming industry will be reopened in phase three of the government plans – the end of June. A significant part of the first quarter will have been lost and all of the second quarter. Recovery in the third quarter will be slow, losing perhaps 70 per cent and optimistically the fourth quarter may see revenues at 50 per cent of normal.
Bingo halls will be most dramatically damaged because of the age range of clients. AWP machines in the street market will be hit by access restrictions, adult gaming centres and betting shops will follow and casinos will continue to hampered by health and safety measures.
"If the outlook for many leisure and entertainment shops is dark, for land-based gaming it is black, although in the coming weeks the prospects may be better defined, when the relevant authorities will be deciding when and under what conditions and if competitions are resumed."
Turning to online gambling, Morales notes that it was legalised in 2012 and gross gaming in 2019 reached €747m or 8 per cent of total GGR.
The digital channel, online gambling and betting has been badly affected by the pandemic, especially sports betting which accounts for 50 per cent of wagers and 60 cent of GGR. That money, he says, has not been "passed on" to casino verticals.
There has therefore been no overall increase in online gambling spend and GGR has been down overall by 30 per cent – 40 per cent. Italy, he says, has seen a 43 per cent fall in overall online gaming volume during the pandemic up to April 15.
"Only operators that are dedicated only to offer casino or bingo verticals have benefited with an increase in revenues. The loss of income in 2020 will to be very considerable for all online gambling and betting operators.
"To further aggravate the situation, some of those regulators responsible for online gaming and betting in Spain, have decided to practically stop advertising, the total prohibition of commercial offers, bonuses and de facto communication with the clients of online gaming operators, breaking the umbilical cord that these prohibitions entail for the relationship between supply and demand."
He laments that there is evidence that the business for the regulated market has been transferred to unlicensed operators; not just the Spanish business, but also affecting other countries such as Latvia, the UK, Sweden, Finland and Belgium (among others) and between 15 per cent and 30 per cent of the demand has been redirected to offshore websites.
Within days of the state of emergency being declared in Spain, says Morales, there was a decrease in Spanish licensed internet gambling activity of between 10 per cent and 15 per cent. He said that this decrease would be accelerated in the second quarter possibly to 40 per cent -50 per cent.
The moral is that any irresponsible limitation or restriction distances a rational offer from a responsible demand, causing part of the demand to be diverted to offshore websites.
The socio-economic consequences of the pandemic in Spain is estimated to have resulted in a tax revenue loss of more than €27.5bn. A decrease of 5.2 per cent in GDP has been identified but by the end of the year, according to the Minister of Economy that may reach 9.2 per cent. Unemployment, says the Spanish Government, will reach 19 per cent.
France, says Morales, has announced a GDP decrease of 5.8 per cent. All countries, he said, would suffer between four per cent and 13 per cent decrease in GDP.
In Spain, tourism (14.6 per cent of GDP and 2.8m jobs) will lose 70 per cent of its income. The manufacturing sector will also suffer badly. In shopping centres the downturn will be similar. In hospitality (270,000 bars, pubs and restaurants, with 1.3m jobs) the impact will see a reduction of 50 per cent in revenue by the end of the year.
These, he said, are only examples. In the land-based gaming industry the hit will be worse, about 60 per cent. A slow return to normality will lose tens of thousands of jobs and at least €2bn will be lost to the Spanish economy.
Morales argues that the "new normality" – a term used by the Spanish Government – will last until 2023. This then, is far worse than the financial crisis of 2008. It was an abrupt closure of activity followed by a slower and longer recovery than is desirable, a reduction in purchasing power and in increase in unemployment to perhaps 5.5m, or 20-21 per cent, while the government puts it at 19 per cent.
Research undertaken by others, with the help of a leading bank releasing considerable data, shows that in the first phase of the pandemic expenditure dropped 50 per cent.
Much will depend upon economic measures adopted by Spain and the aid coming from the EU and the European Central Bank and other international institutions to help revive the economy.
The government, he said, would continue to wrestle with numbers to balance the books. Its budget for the year expected increased income from taxes, which now seems much more unlikely. The attitude of the appropriate ministers, says Morales, is to apply new and higher taxes on large companies and the upper classes. These and other measures will not be possible until 2021. "They are in front of a no-win situation," says Morales.
Political in-fighting between parties with opposing outlooks may interfere with what should be, he said, "pragmatism….renouncing ideologies to find a space with economic measures that favour the recovery of the economy, reactivation of the business, companies, production and the purchasing power of citizens."
If the solutions can be 'depoliticised', pragmatic measures can be adopted aimed at recovering the economy, says Morales.
"Meanwhile, the gaming industry, the whole industry – but in particular the land-based sector - is going to have, unfortunately, a slow and lasting 'resurrection', considering the collapse of the country's economy in a deep recession and the bankruptcy of consumption.
"I wish to be positive and that it will all have a happy ending - which I applaud in advance - because the industry and its people will need encouragement and a lot of confidence in its professional capacity to face the ever important and difficult challenge of its business journey.
"The future for the gaming industry in Spain, is uncertain and unsure …. if we stick to how the administrations – governments both national and regional - treat us, I am optimistic, especially considering the resilience and professional and human capacity of companies and people in the industry."