Laserforce wins fifth Strike Bowling installation
Laserforce has opened its fifth state-of-the-art laser tag facility within Australia's largest privately owned bowling chain, Strike Bowling.
Strike bowling currently owns 12 boutique bowling bars throughout the country, providing customers with a high end bowling experience and sophisticated bar atmosphere.
Len Kelly, founder of Laserforce, said: "I am exceptionally pleased in the way Laserforce has been able to sync in with Strike Bowling's needs. They asked for a robust laser tag system, that was easy to use but had all the advanced features to keep their customers wanting more. It's exactly what we gave them."
Sam Milionis, infrastructure and development manager of the Strike Bowling chain, added: "The equipment has been put under significant demand and has shone through. It has proven the correct decision to switch to the Laserforce equipment."
Inspired will be showcasing its newest VLT games and its Machete VLT cabinet at Fadja in Colombia on April 8-9.
The Belgian Gaming Commission is seeking to change the country's regulations to fall more into line with other countries that offer limited payout gambling in the street markets.
The 2015 FER-Interazar was held in Madrid, Spain, this week and attracted many of the industry's leading AWP manufacturers.
Related articles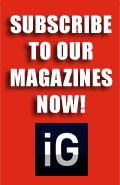 Our Publications
Our Partners