In the latest of a series of monthly insights from those at the world's leading integrated cashless solution for family entertainment centres, Embed's, CEO Renee Welsh talks about how the company continues to work towards the recovery of the industry.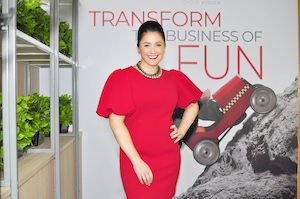 Since March, Welsh told InterGame, Embed has declared its commitment to doing everything within its means to support our customers, partners and the wider industry.
"We are a small company weathering this storm too," said Welsh. "We believe our actions speak louder than words."
In this column, Welsh describes the challenges being tackled by Embed before sitting down for a one-to-one interview.
The evolution of expectation
One of the major insights gained over the course of the past few weeks is that consumer behaviour has changed.
"Consumers do not want to touch anything unsafe or expose their families to viruses," added Welsh. "We've seen it time and time again, around the world: FECs open and close (the Dance); when they open, they are 95 per cent below last year's revenues. At the same time, we've seen a consumer surge post-lockdown. They go to businesses that have taken the proper steps to mitigate risk – and pervasively publicised it – and we've seen a pattern that indicates this consumer surge has driven the spike in mobile payments (contact-free/low-touch) adoption.
"Our industry needs mobile payments. We have the only Apple iOS and Google Pay certified solution in our industry, so we're giving it away for free via the Embed COVID-19 Relief Act.
"We also wanted to do more, so we created the Embed COVID-19 Resource Center: with Mobile Wallet Toolkit and the Reopening Toolkit, to help the industry prepare for reopening day and expedite/accelerate their recovery, so they can highly publicise/promote/communicate the safety measures they are taking to mitigate risk and deliver safe, clean fun (across the entire consumer journey), so they can capture their fair share of the consumer surge.
"We chose to give away the mobile Wallet, knowing the revenue impact it would have on us, but industry needs it and it's the right thing to do! And we chose to put our resources against developing and giving the creative toolkits for free while others are charging for the creative.
"We are on a mission to enable, empower and ease the business of fun with a vision of transforming the industry. By putting the guest at the heart of everything we do, we enable the operator to thrive. During this pandemic I believe we have strongly demonstrated our commitment by implementing the COVID-19 Relief Act and offering it to the industry, free of charge.
"Since stepping into the CEO role I've been single-minded in my aim to elevate every function of the company. From installation and training to support and care, and from product features to the company's culture and value system. I assembled an executive team from various high-tech industries, and they have proved to be a dream team during this pandemic. They've come together and shown exceptional resilience and an entrepreneurial survival mindset during these uncertain times."
Mobile wallet, toolkit and resource centre
In March, Embed promised its customers and partners it would do everything within our means to support the industry's recovery.
"Our initial act towards that promise was to collaborate with different industry leaders and insiders to share their insights and strategies for getting to the other side of this and shared it with the FEC community," said Welsh. "These webinars, the EmbedLIVE series, were a way for us to provide immediate value, while simultaneously working in the background to develop a longer-term recovery plan that would be a sustainable solution for our industry.
"By April, we implemented Embed's Covid-19 Relief Act which offers new and existing customers our latest award-winning innovation, the Mobile Wallet, free for one year. We believe this is the most powerful demonstration of our commitment to our industry's recovery. The mobile wallet is what the industry most needs now: a simple Google search will confirm that the use of contact-free/low-touch payments via mobile phones (using the mobile wallet) have skyrocketed. Mobile usage and contactless mobile payments are an immutable unstoppable force. To say otherwise is irresponsible."
The truth is, however, that for guests to experience the new form of payment and game play, they will need to be comfortable returning to FECs.
"When consumers surge from their home, they are not going to businesses they perceive as unsafe or who haven't pervasively communicated the safety measures they are taking to mitigate risk. That's why our team created a Reopening Toolkit and Mobile Wallet Toolkit for FECs to use as they wish, free of charge.
"While the Mobile Wallet Toolkit enables FECs to launch the new payment service and drive uptake in their operations, The Reopening Toolkit is developed to support operators successfully communicate to their customers the actions they have taken to mitigate risk and deliver safe, clean, fun, across the entire customer journey (from digital to storefront, and beyond)."
"And I am thrilled to announce we are expanding our relief efforts: not only are we giving customers the Mobile Wallet for free, we are offering a COVID-19 Resource Center to facilitate a successful reopening and expedite all FECs recovery.
"You can now find all the content and request forms for our Mobile Wallet and Toolkits (in addition to other great tools and resources, such as the EmbedLIVE series) at our COVID-19 Resource Center."
This is far from business as usual, but Embed's e-lights are on and we're working hard to support the industry with solid support initiatives and concrete and meaningful deliverables because we know actions are more powerful than words. We're working hard to get through this, together. And together we will!