Another departure from this world and from our industry...Roy Howell was someone who had a real impact on the development of the UK coin machine industry in general, and the AWP (Category C) in particular over the years.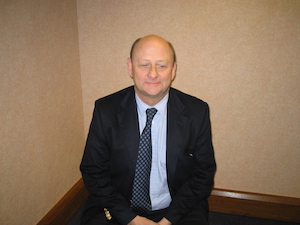 His untimely death yesterday – especially for someone so full of vitality – comes as a shock to the business, even to those connected to it only in the 2000s.
But Roy goes back much further. I first met him in the early 1970s when he joined his father's machine operating business in Wolverhampton (Temple Street, as I recall).
Peter Howell was a big, confident, extrovert who built up a successful operation to the pitch where he could support a manufacturing business.
Maygay Machines was a combination of two operating companies' names, Mayfair and Gaylord. It grew to be the second largest (after Bell Fruit) AWP manufacturing business in the country.
My own relationship with Roy went beyond 'business friendship' to a personal one that lasted throughout my Coin Slot career and into the start-up of InterGame, when Roy was an enthusiastic supporter in real terms – he advertised prolifically. Roy was also my best man when I married his first cousin, Sharon, in 1982, complaining right to this day that I had "pinched the best receptionist Maygay ever had…"
Roy and his sister, June, played their part in building Maygay still further after their father retired and were both active in the trade association, BACTA, of which Roy was at one time Chairman of Division 4.
He was very much the extrovert. Roy had a keen, sometimes acidic, sense of humour, regularly took bets with me over England vs Wales rugby matches, when hunting, shooting and fishing with other characters from the industry (notably Jack Jones of JPM and Colin Taylor of CT Leisure) and loved life.
I think the best tribute to Roy comes from old colleague Steve Murray, with whom Roy set up Games Media: "Roy was a hard working, hard living character who rarely did things by half. Ubiquitous at trade associations and exhibitions, I fondly referred to him as the "Entertainments Director." A keen shot and fly fisherman, Roy lived the life of a country squire. He will be remembered as being larger than life and living it to the full."
Another heart-felt tribute, this time from Dean Harding of Crown Direct: "I am absolutely gutted that 'the Boss' has gone. I worked with him for 12 years and he has been my friend and mentor for over 30 years and I loved every minute of it. I was supposed to meet him for lunch last week when he was taken ill. I cannot believe it."
Charles Henry, on social media: "My thoughts are with Sue and the family at this sad time. While it is many years ago that I was a director of Maygay and worked closely with Roy, the memory and fun we had remains vivid. He had that special quality of affecting positively the lives of those he knew and will be much missed."
They've said it all…