Betsson Group CEO Pontus Lindwall told iNTERGAMINGi at iGB Affiliate London that the company is aiming to improve its localisation strategy and become more "local."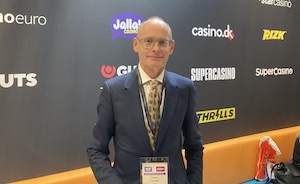 The industry veteran spoke from the Betsson Group Affiliates stand and detailed the company's overall aims and targets for 2023.
"It's all the smaller things that we do which add up to something big and we want to become more local," Lindwall said.
"Business is local, but the Betsson app in Greece shouldn't be the same as the Betsson app in Sweden or in Peru – they have to be different. We are aiming to be more flexible in that regard to become more local."
Sticking with the theme of localisation, Lindwall also pointed to the opportunities opening up for Betsson in Latin America.
"For this year, obviously we started already some time ago in 2022 into LatAm, that's one of the main growth areas that we see and where we put a lot of energy and financial resources to grow even more," he said.
"There's many different and sizeable markets and while they are behind Western Europe in terms of where they are on the timeline, there's more potential to come for online gaming. It's a very interesting place to be for us."
Lindwall said on his predictions for regulation going forwards: "Local regulation has been a trend for 10 to 15 years, but I think what we need to see more is regulators looking at which countries are doing well - maybe we can then pick something from that.
"And which countries are not doing well at all, we should try and put more functional regulation in place in Western Europe."
Lindwall noted his key message for ICE London and iGB Affiliate London was that "regulation is good, but only if it's sustainable regulation that manages to get the industry together together."
As for the affiliates side of the business, Lindwall said: "I have always thought that affiliates will remain because they do things that some better than we can do and they deliver a service which is worth paying for, so that will continue."
And he concluded that Betsson has enjoyed a "dramatic development" since he joined in the early 1990s.
He added, though, that the company has to "preserve the innovation climate that we have" and "try to be entrepreneurial."